Durable Parking Lot Stencils in San Diego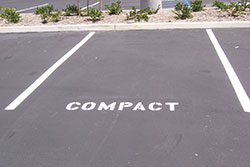 Parking lot markings give visual direction to the visitors of your business or facility. At Linear Striping, Inc., our team of professionals can help your business create a clean, safe, and well­organized parking area with the inclusion of custom parking lot stencils and lot striping. We're the San Diego parking lot specialists, with over 20 years of installation experience and hundreds of satisfied clients. We have what it takes to make your parking lot a stress­free experience for your site visitors.
The sky's the limit when it comes to our parking lot stencils. For compliance with local and
state ordinances, certain markings may be required. You may also want to add special markings like "employee of the month" or "expectant mother" to your parking lot to add some visual interest or to offer special incentives for your customers and employees. Directional stencils and other markings also help traffic flow in and out of your parking lot. The proper application of markings can eliminate confusion, keeping visitors from parking in unauthorized or unsafe areas. Because we custom­make our own stencils, we can offer them in a wide range of sizes to fit whatever your space requires. We only use the finest materials and processes to cut and apply our parking lot stencils, so you can be assured of crisp, legible lettering or other markings. The finished product is durable to withstand environmental and traffic damage and will look great for years to come.
Linear Striping, Inc. offers a complete range of parking lot services, including asphalt repair, handicap space markings, sign and post installation, seal coating, and curb painting. Whether you have ten spaces or a thousand, our team of installers and design experts can help you find a parking lot solution that works for your business needs.
Call us today, or contact us on the web for a fast and free estimate. Linear Striping, Inc. is committed to being the San Diego area's industry leader in all aspects of parking lot improvement.