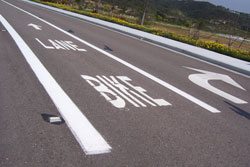 Thermoplastic markings are thick and incredibly durable — far more than simple paint. They are developed to withstand constant exposure to sun, wind, and precipitation, and remain looking great for years. The markings come in a variety of shapes and sizes to suit any parking lot, and can be formed for special applications. Thermoplastic striping is only one of dozens of choices here. Our expert installers use only the latest tools and techniques to apply these thermoplastic road markings. In order to help the local economy, Linear Striping, Inc. strives to source preformed thermoplastics from other local suppliers and manufacturers. This keeps money in our area and helps guarantee only the highest-quality materials are used in your parking lots.
In some areas, thermoplastic pavement markings may be required by code. The professional teams at Linear Striping, Inc. stay abreast of code changes, and our work complies with all local, state, and federal regulations. We've got over 20 years of experience in all aspects of parking lot marking, striping, and asphalt repair, and we have hundreds of satisfied clients throughout the San Diego area. We have helped many businesses with their parking lot needs, including some of the largest corporations in the region. If you only have 10 spaces in need of marking, or a large expanse of paved parking lot with hundreds of spaces, our flexible installers can handle any job.
Of course, there is more to our business than thermoplastic pavement markings. We offer a full range of parking lot rejuvenation services, including asphalt repair, seal coating, curb painting, and more. We specialize in the needs of handicapped visitors, too, and can ensure your business's parking areas comply with the regulations set forth by the Americans with Disabilities Act (ADA). We can even install any needed posts, bollards, and signage your parking lot requires.
Call us today, or contact us via our website, for for a fast and FREE estimate/consultation. Linear Striping, Inc. is committed to quality in everything that we do, and we're ready to help with your parking lot needs.