Striping Company in San Diego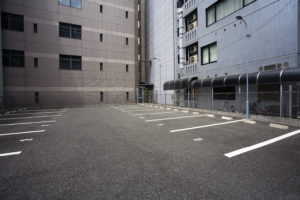 Linear Striping, Inc. is a locally owned and operated Striping San Diego company servicing all of San Diego County.  Our longevity and reputation is based on our expertise and dedication to quality work. We strive to maintain our accountability and commitment to provide superior service to our clients in many areas ranging from ADA compliance to asphalt repair and all your parking lot needs.
Linear Striping, Inc. has been in business since 1990.  In that time, we have satisfied hundreds of clients in the San Diego area.  We've completed parking lot installations, repairs, and maintenance for apartment and condominium developments, hospitals, corporate offices, and many other jobs, including parking lots for some of the biggest businesses in the region.  We use only the latest tools and equipment to ensure that every job meets our clients' needs as well as maintaining compliance with all local, state, and federal codes.
No two San Diego parking lot striping jobs are ever the same.  Because we can handle any job, large or small, this requires flexibility in ability, scheduling and applications.  Our design experts and skilled installers have that crucial flexibility to tackle any job, from small parking lots with a handful of spaces all the way to large shopping centers and corporate office parks with large expanses of paved parking lots.  Our goal is 100% customer satisfaction, and we will work until that goal is met on EVERY job we do.
We are proud to offer a wide variety of parking lot services, including:
Parking lot striping
Sign and post installation
Seal Coating
Handicap space marking
Thermoplastic marking installation
Curb Painting
As you can see, we offer a full range of installation services that are tailored to suit your unique business needs.
Linear Striping, Inc. is fully insured, California Licensed (Class A and C-32) and Bonded  (CSLB) number 808060.  We are also California Small Business Certified (SBE), API WorkSafe Certified and rated with Dunn & Bradstreet.  These certifications are testaments to our company's commitment to quality in everything we do.
To learn more contact us at 619-596-6973 or contact us online.  We are proud to offer fast and free consultations.  Contact us today to see how Linear Striping can work for you and your business needs!