Parking Lot Signage in San Diego for Safe and Efficient Parking Experience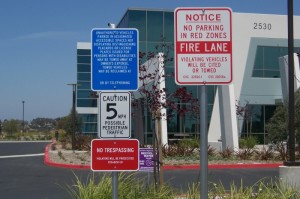 If you own a business, Linear Striping, Inc. offers the finest sign installation San Diego has to offer.
Signs and posts are an important part of any parking lot. Signs are used to help guide visitors to parking areas, prevent parking in unauthorized areas, or provide other visual information. As part of a complete parking area installation, signs are crucial. Here at Linear Striping, Inc., we are the San Diego area parking lot experts and can help your business complete new parking construction or refresh a tired old lot. From traffic sign installation to placing the posts and signs, our installers have the skills and the tools needed for an accurate job that exceeds expectations, looks great, and provide your visitors with important information.
Signs and Posts:
Not all sign installation jobs are the same, of course.  Single signs may require one way of installation, while larger or multiple signs will need sturdier methods to ensure they hang properly, resist the wind, and do not create any hazards.  Linear Striping, Inc. has been in the parking lot service industry for over 24 years, so we have decades of experience.  We choose the right signs for the job and install them in a way that is appropriate for the application.  Our installers have great attention to detail, and the completed jobs look fantastic and perform even better.
Installation and Compliance:
As the San Diego area's sign and post installation industry leader, we know what it takes for a professional sign installation job. Whether your parking lot requires simple u-channel posts with single signs, or more comprehensive signage such as concrete bollards with multiple signs attached, Linear Striping, Inc. can help. As you may know, some areas require signs as part of building codes. With our many years of experience in the sign installation business, our company's design experts stay on top of current local, state, and federal regulations and will install exactly what your parking area needs for compliance. A safe, clean, and well-organized parking area is the first part of a positive experience for your customers.  It shows you're serious about maintaining the appearance of your business, which translates into customer satisfaction and repeat visits.  And, with the appropriate signs installed, your site visitors will have the information they need to park properly or avoid areas where parking isn't allowed.  Code compliance is also important to help protect your business from legal entanglements and regulatory fines — if your parking facilities are up to date and compliant with all the applicable codes, your customers will be safer and so will your business!
Our Commitment to Excellence:
We've completed jobs large and small throughout the San Diego area. Some of our work includes apartment and condominium developments, shopping centers, and some of the largest corporations in the region. Our company's commitment to customer service excellence, coupled with our expert installation and satisfied client list, ensures that your parking lot needs will be handled with care.  If you are a small business owner with a handful of parking spaces, or a large facility with hundreds of paved parking spaces, Linear Striping, Inc. is the right company for your parking lot needs.  We can handle the completion of new construction and its related parking areas, upgrades, or repairs to existing lots.  We can breathe new life into a tired old lot, and your customers will notice.
We are so serious about providing the most comprehensive parking lot services in the San Diego area that we will work until you are completely satisfied. We tackle every job as if it the most important we've ever done — all to make sure that our customers have the very best parking lots money can buy.
Our Other Services:
Linear Striping, Inc. offers a full range of parking lot services — we do far more than just San Diego sign installation. We also apply stripes and markings to lots, perform asphalt repair services, and mark handicap parking areas. For high-traffic areas, our application of thermoplastic markings is the best in the business. We can even seal-coat old parking lots to help protect them, breathing new life into a tired parking area and increasing "curb appeal" for your business or organization.
Some of the other services we offer are:
Curb painting
Sand and shot blasting of painted and paved surfaces
Truncated dome and tactile warning system installation
Customized pavement stencils and markings
Our comprehensive range of services mean that whatever your business needs in terms of parking, Linear Striping, Inc. can handle it.  Our flexibility and attention to detail makes us the premier choice for the entire San Diego area.  When it comes to parking lot installation and repair services, nobody beats Linear Striping.
Let Linear Striping, Inc. help you with your parking needs. Our expert designers and installers are ready to help bring your business's parking needs into reality with a clean, precise, and professional service package. Call us today or contact us through our website for a fast and FREE consultation. Linear Striping is ready to make sure your customers have a clean, safe, and efficient parking experience at your facility.