Wide Array of Parking Lot Striping in San Diego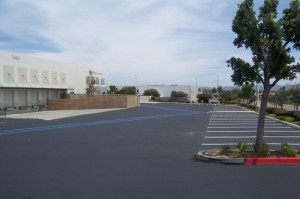 Parking lot striping is something you may not think about, but a clean, well-organized parking area is the first thing your customers see when they arrive at your facility. Be sure that first impression is a positive one by choosing Linear Striping, Inc. for your parking lot upgrades. With over 23 years of experience, we are the industry leader in the San Diego area for parking lot striping and lot repair.
Markings on paved areas provide visual guidance for motorists and other site visitors.  Those markings tell visitors where they can and cannot park,  marks out areas to avoid, or shows ingress/egress routes. The layout of a parking lot can make or break the way the lot handles traffic patterns — a poorly-designed lot can make it difficult for visitors to negotiate the parking areas.  Linear Striping, Inc. and its talented designers can help your facility by designing and specifying a striping job that moves traffic efficiently and safely in and out of your parking areas.  We've done striping throughout the San Diego area and have many satisfied customers, including some of the largest corporations in our area.  In San Diego, striping is in our blood!
Our team of experts will ensure every job is completed on time and meets all local, state, and federal requirements. Your parking lot specifications will be brought to life with speed and precision. We are also very experienced in the regulations of the Americans with Disabilities Act (ADA) regarding parking areas for the physically disabled . Let us help you design and paint your parking areas, including straight or angled single line stalls, double line stalls (with square or round ends), paths of travel, cross hatched areas, center lines and more. When Linear Striping completes the work, your parking lot will look great and perform even better, keeping your site visitors happy and safe.
Linear Striping, Inc. offers a wide range of services to help complete new parking areas or to breathe new life into older lots. In addition to our pavement striping, we can handle curb painting, parking space painting, and marking of handicap areas.  We can even install the signs and posts that may be required for your area.  And, our asphalt repair is second to none — with crack fill and hot patching, a damaged lot can be refreshed without the need for expensive repaving.  Our asphalt seal coating can help preserve older paving, and it looks great — something your customers will appreciate when they come to your business.  All of our work is backed by our company's commitment to quality service, from the initial consultation all the way to the completed job.  You'll be glad you chose Linear Striping, Inc. to handle all of your parking lot repair needs!
Our work and professional application are adaptable to suit every client situation. Whether you are a business with new construction, or have an older parking lot that simply needs refreshing, our tools and experience can create a clean, safe area for your customers. Contact Linear Striping, Inc. online or by phone at 619-596-6973 today for a fast and FREE estimate.