Line Painting in San Diego for Clean, Organized, and Efficient Parking Area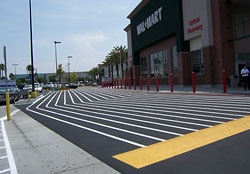 A well-organized parking lot depends on surface markings to make sure customers know where their vehicles can go, and which areas of the lot to avoid. Linear Striping, Inc., the San Diego area's premier parking lot line painting contractor, can help your business create and maintain a clean, organized, and efficient parking area for your guests.
Parking lot markings can take many forms. First, there are the individual parking spaces, which are delineated in a number of ways to ensure that vehicles will fit in the spaces without obstruction or contacting other vehicles in the vicinity. Second, lines and markings are used to visually direct traffic flow in, out, and around the parking area. Finally, lines and markings can be used to block off areas where no parking is allowed or to guide visitors to loading zones or other special-use areas within the lot. Every parking lot is different, and every business has different needs. Linear Striping, Inc. offers over 20 years of expertise in helping your business come up with a parking solution that fits the needs of your organization and the needs of your site visitors. Our designers have the experience and the skill to develop a well-organized lot that moves traffic efficiently and offers ample room for parking, loading, and other uses.
We've helped hundreds of clients in the San Diego area with their parking needs, from condominium and apartment developments, medical offices, corporate office parks and more. Whether your business has a small lot with only a handful of spaces, or an area designed to handle hundreds of vehicles, our experts can help. Thanks to our flexibility, we can handle new construction or simply give an old lot a fresh, new appearance and improved efficiency. We use only the finest materials, processes, and equipment in the parking lot line painting industry to ensure our work is completed perfectly. The line painting machines we employ lay down crisp markings that look and perform great. The coatings we use are developed for long wear and resistance to environmental damage, which helps the lines and other markings last through years of traffic and sun exposure. Let our expert designers and installers help your business with a precision line painting job for your parking lot!
Of course, line painting is not all that Linear Striping, Inc. can do. We also specialize in curb painting, handicap markings, sign and post installation, and asphalt repair. Our experts stay abreast of any regulatory concerns to ensure that our work (and your parking area) complies with local, state, and federal codes. We can even refresh an old paved surface with a durable seal coating process that looks great and lasts.
Call us today, or contact us via our website, for a fast and FREE consultation. Linear Striping, Inc. is committed to providing top-notch service and quality installation that is head and shoulders above our competition.